Crafting a Sensory Journey
Introducing HM Woodcutter Gin
HM Woodcutter gin has a distinct flavour that defies the ordinary. In this blog we will delve into the origins of the Woodcutter, learn what gives it's distinctive flavour profile and more.
The recipe for the HM Woodcutter gin was crafted in the early days of HM Gin and is the second HM Gin recipe head distiller Gav perfected. When I asked him the story behind how the Woodcutter's unique flavour profile came to be, he explained he was wanting to create a citrus gin using lemons and limes. After distillation the idea came to him to experiment with oak spirals just to see how the flavour may change. That experimentation led to the Woodcutter gin's signature flavour that everyone has come to know and love.
The Woodcutter's botanicals
Juniper berries, coriander seeds, coconut sugar, lemon myrtle, fresh lemons and limes. Medium toasted French oak spirals are immersed in the gin distillate, see image for what the spirals look like.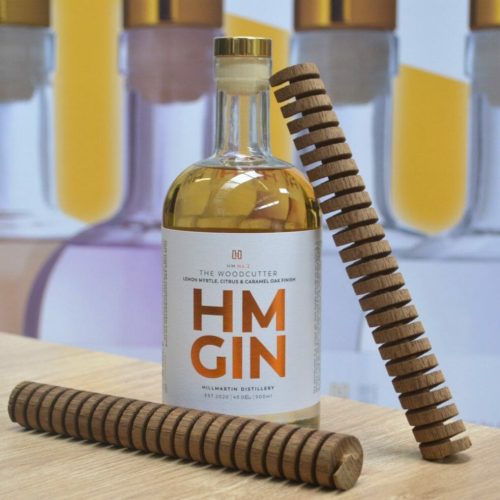 How the Woodcutter is made
Preparation
Distillation
Post distillation
Preparation
The distillation process for HM Woodcutter gin starts with the still being loaded up with a mix of water, alcohol, a healthy dose of juniper and a sprinkling of coriander seeds. The hatch of the still is closed and we turn the stirrer on. For the next 16-18 hours the juniper and coriander seeds macerate in the base of alcohol and water. The maceration process is important as it draws the maximum flavour from the juniper and coriander seeds creating a much deeper flavour.
When maceration is complete, and before we begin heating the still, coconut sugar and finely cut lemon myrtle is added to the pot of the still. We do this to allows these two ingredients time to permeate through the solution.
Distillation
Post distillation
How to serve HM Woodcutter gin
Ingredients:
45ml HM Woodcutter Gin
15ml Fresh lime juice
10ml Sugar syrup (if you like it sweet add 15ml)
60ml Ginger beer
10 mint leaves
Extra mint leaves and a lime wedge to garnish
Process:
1. Add mint leaves, sugar syrup and lime juice to a cocktail shaker and lightly muddle together.
2. Add the gin and some ice to the shaker and shake for 10-15 seconds.
3. Strain into a glass filled with ice.
4. Pour in ginger beer and stir to combine.
5. Garnish with mint leaves and lime wedges.
Ingredients:
60ml HM Woodcutter Gin
7ml Sugar syrup
2-3 dashes of Angostura bitters
Orange twist to garnish
Process:
1. To a glass add your sugar syrup and bitters, stir to combine.
2. Add your ice cubes.
3. Pour over gin and stir to combine.
4. Garnish with orange twist.