Crafting a Sensory Journey
Introducing HM Seven Spice Chai Gin
HM Seven Spice Chai gin is big on flavour thanks to its irresistible blend of seven exotic spices, juniper berries, black tea and locally sourced honey. It is totally unlike any other gin you've ever tasted before. 
Picture this – Gav, our Head Distiller, and I were on a road trip to meet a fellow distillery owner who also produces Chai powder. Being a Chai enthusiast myself, the car ride became an impromptu brainstorming session. With excitement, I blurted out, "You know, all the ingredients used to make Chai also go in to gin – but never all together! Let's give it a shot!"
Our friend generously gave us a kilo bag of their raw Chai mixture, and with a twinkle in our eyes, we set out to distill. The result? Well, you're about to discover the magic of HM Seven Spice Chai Gin!
What makes our Chai gin different?
As mentioned HM Seven Spice Chai is big and bold in flavour. We use 25 times the normal quantity of ingredients than in any other of our gins. And the addition of honey creates a creamy mouthfeel that balances the medley of spices, delivering HM Gin's signature smooth finish.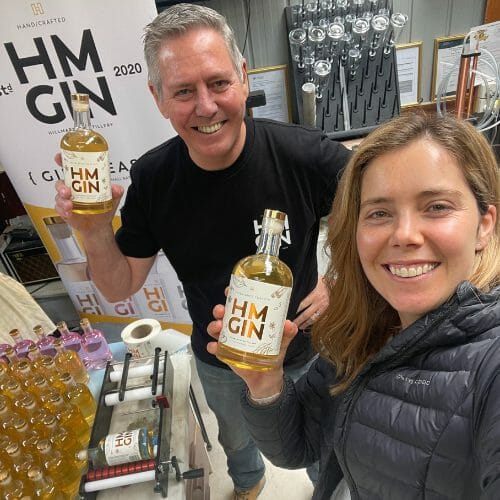 How Seven Spice Chai gin is made
To distill this delicious blend we use nine botanicals:
Juniper berries, tea extract, black pepper, cardamom, cinnamon, cloves, ginger, nutmeg and star anise.
Wildflower honey is added post distillation.
To the still we add our base alcohol at 96.5% ABV followed by all botanicals. After heating the still, distillation runs for around 4 hours with the final ABV of the distillate sitting at 75%.
We then take Wildflower honey and add that to the gin. This is allowed to settle whilst we dilute the gin back to 43% ABV before bottling.
We filter the Chai during the bottling process. You will however still find some some sediment from the honey typically at the base of each bottle of gin.
Using only the best honey is very important to us in creating Seven Spice Chai gin. We use locally sourced raw Wildflower honey from Bizzy Beehive.
Founded by Isabel (Izzy) Gadea in 2013, Bizzy Beehive is located in Beveridge Victoria.
We initially met Izzy at the Eltham Farmers Market where she is a fellow stall holder and have become good friends ever since.

How to serve Seven Spice Chai gin
With its bold flavour HM Seven Spice Chai gin is incredibly versatile. The world is your oyster, just use your imagination. Or try some of these cocktails below: