The Clover Club Cocktail recipe is a gin sour made with raspberry syrup and an egg white. We've chosen to mix this cocktail with our HM No 3 Blushing Pink Gin as as the base. HM No 3 Blushing Pink Gin is distilled with an abundance of fresh raspberries and strawberries so it's sublet sweet berry finish is perfect for this cocktail recipe. Enjoy!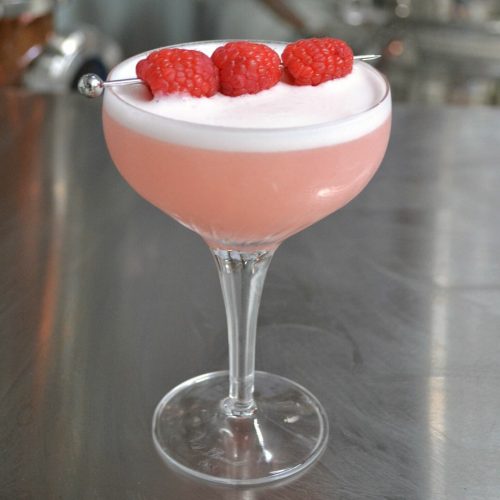 Clover Club ingredients
60ml HM No 3 Blushing Pink Gin
22ml Fresh lemon juice (3/4 ounce)
22nd Raspberry syrup (3/4 ounce) – see instructions below
1 egg white
3 raspberries to garnish on a preferably metal skewer
Preparation

1. To an empty cocktail shaker add all your ingredients. Shake vigorously for 30seconds.
2. Once shaken add ice to the shaker and shake again for 15-20 seconds.
3. Strain into a chilled coupe glass and garnish.
Raspberry syrup:
To a pot add 1 cup sugar and 1/2 cup water. Stir over medium heat until the sugar has dissolved. Now reduce the heat and add 1/2 a cup of fresh raspberries. Once softened to a pulp consistency strain accordingly. Consume with week.
Alternatively you can muddle fresh raspberries and add 22ml of sugar syrup.
Looking for more cocktails ideas?
If you enjoyed this recipe explore our full collection of curated cocktails.